Belmont Media Center has several internship opportunities that can be year-, semester- or quarter-long.  Applications can be submitted at any time. 
For more information or to apply, please email Jeff Hansell (jeff@belmontmedia.org) or call 617-484-2443, ext. 222
---
---
Studio and Field Intern
---
The Studio and Field Internship will provide an intern hands-on training in TV studio and field production, and give the intern a high level of responsibility within BMC. Each day will vary depending on the studio schedule and the needs of the members and staff. For instance, on some days the intern will be needed to set up the studio for a particular program; on others they will be recording an event in Belmont like a music program or a sporting event. No experience in production needed - just an excitement and willingness to learn the ropes.
Intern Deniz Dutton was with BMC for the summer of 2017 as a studio and field intern. Click her photo to learn about her experience! >>>>>>>>>>>>>>
Responsibilities:
Work closely with each staff member on assigned tasks such as studio setup, video production, field production, front desk tasks, and marketing
Assist on the studio crew for BMC Producer's shows as needed
Produce a program to air on BMC Public Access at least once a month during internship tenure
Assist in special events such as Gallery@BMC receptions, town meetings, telethon, etc.
Opportunity to shoot and edit videos
Qualifications:
Interested in TV and video production
Ability to work independently and meet deadlines 
Willingness to work some nights and weekends as needed
Knowledge of basic video production skills such as camera, audio & editing software OR a desire & willingness to learn specific skills quickly
Enrolled in high school, or a college or university & eligible to receive credit for work performed
---
News and Current Events Intern
---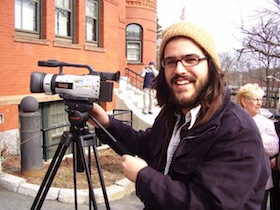 The News & Current Events intern will act as line producer, coordinating segments provided by Citizen-Herald staff and other community volunteers; and will prepare the finished program for cablecast. The intern will also have the opportunity to shoot, edit and report on-camera.
This unique internship is great way to acquire a wide range of on-the-job experience in TV/Web journalism using BMC's smaller Studio B. BMC will provide a small stipend to the enrolled student. This position will also provide the intern with a large portfolio of professional work that will be presentable to future employers, which has aired on television and will live in perpetuity online on the BMC website.
Responsibilities:
Identifying top stories of the week with the editor of the Citizen-Herald
Develop the stories and produce any interviews or footage needed
Assist the editor & reporter with the writing of the script
Direct and produce the weekly newscast program for cablecast
Work as studio crew member for other BMC programs as a needed
Qualifications:
Interest in journalism, news media and TV production
Willingness to appear on-camera as interviewer/reporter
Ability to work independently and meet deadlines
Knowledge of basic video production skills such as camera, audio & editing software OR a desire & willingness to learn specific skills quickly
Enrolled in high school, or a college or university; with priority given to journalism, communications or media production students
---
Gallery and Events Intern
---
The Gallery & Events Coordinator internship will be a hands-on, high responsibility opportunity for anyone interested in curating art exhibits, gallery/event organizing, and the business side of art. The hours required for this position will be minimal and vary week to week, due to the cyclical nature of the shows. This is an ideal internship for a student who is highly motivated, but can only make a small commitment. Interns interested will be supported in developing additional projects for the Gallery and BMC as a whole. (Additional projects would not be required to gain credit, however.)
Responsibilities:
Schedule and facilitate the installation and removal of all pieces in the show with each artist at the beginning and end of their shows
Schedule and coordinate the opening reception with the artist
Promote the exhibition and reception on the BMC website and other arts-related outlets such as websites, magazines, newspapers, etc.
Coordinate the production of the Gallery@BMC TV program, which is produced by a BMC member
Work closely with the Marketing & Administration Manager at BMC to identify and contract local artists for exhibitions
Qualifications:
Interest in gallery operations and art business
Ability to work independently and meet deadlines
Willingness to work some nights and weekends as needed
Basic understanding of event coordination and promotion OR a willingness to learn
Enrolled in high school, or a college or university & eligible to receive credit for work performed; priority given to students of visual or studio art; art management or business
---