Finding Comfort, Hope & Community . . .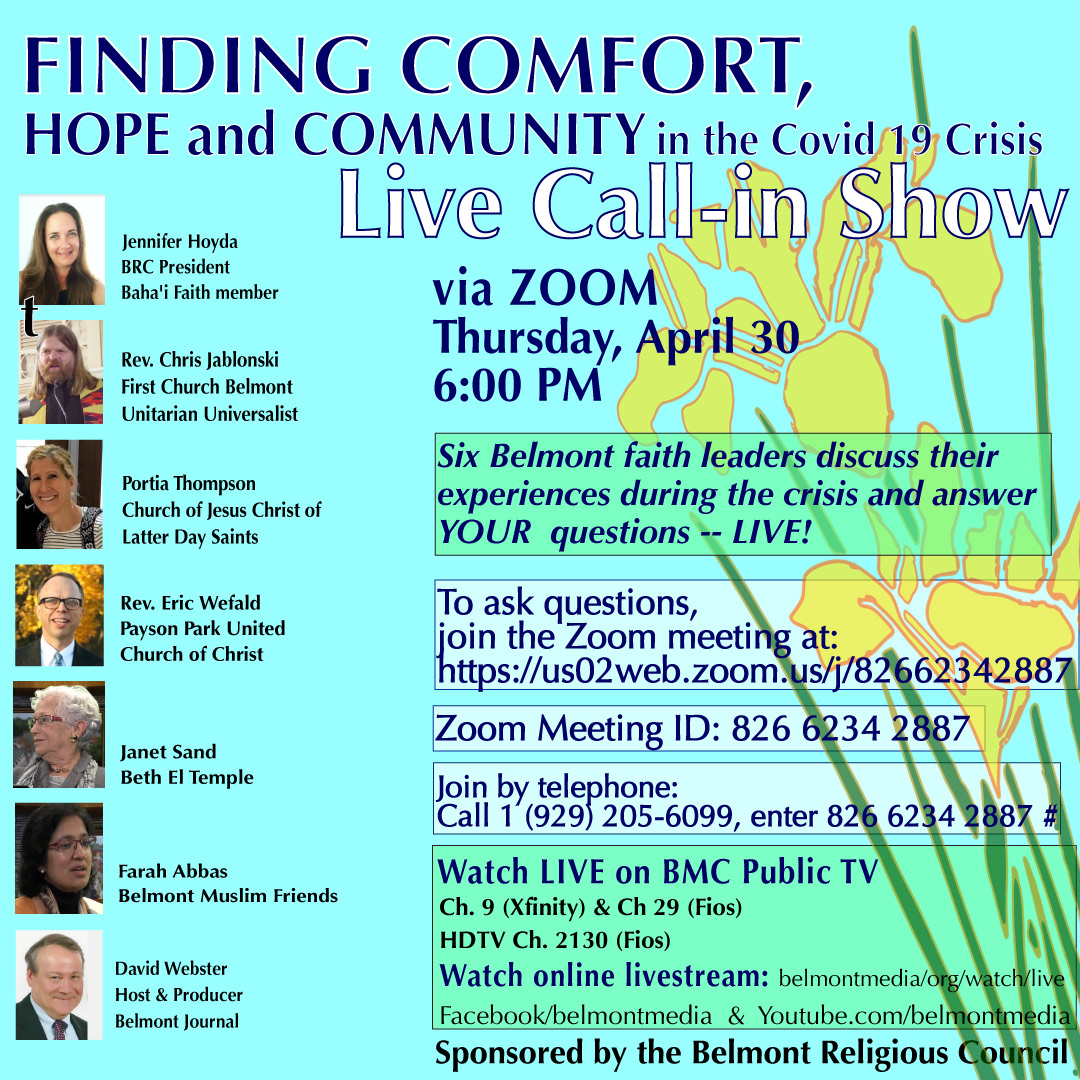 Monday, April 27, 2020 - 9:42am
Six Belmont faith leaders discuss the challenges and rewards of leading virtual services and will answer questions from the community in a Live & Local broadcast via Zoom and on Belmont Media Center.
6:00 to 7:00 PM on Thursday, April 30, 2020 
Watch it LIVE on local cable TV in Belmont on
BMC PublicTV: Ch. 9 (Xfinity) & Ch 29 (Fios) and HDTV Ch. 2130 (Fios)
Or watch online at:
belmontmedia.org/watch
Facebook/belmontmedia
Youtube/belmontmedia
Join the Zoom meeting by computer or smartphone >  https://us02web.zoom.us/j/82662342887
Zoom Meeting ID: 826 6234 2887
Join by telephone:
Call 1 (929) 205-6099, enter 826 6234 2887 #
Finding Comfort will be a live, one hour discussion & call-in program sponsored by Belmont Media Center and the Belmont Religious Council (BRC) and is an opportunity to connect with our community to share spiritual support insights.
Topics for the panels & callers may include:
What gives you comfort?
How can Belmont houses of worship help?
Have you experienced small acts of kindness?
How can we love our neighbors?
Your questions & comments
We ask that all participants to be respectful & patient of others.
Questions?
Contact David Webster at 617-835-7602 or dwebster9999@gmail.com
Thu, 04/30/2020 -

6:00pm

to

7:00pm