Take a Class this Winter at BMC!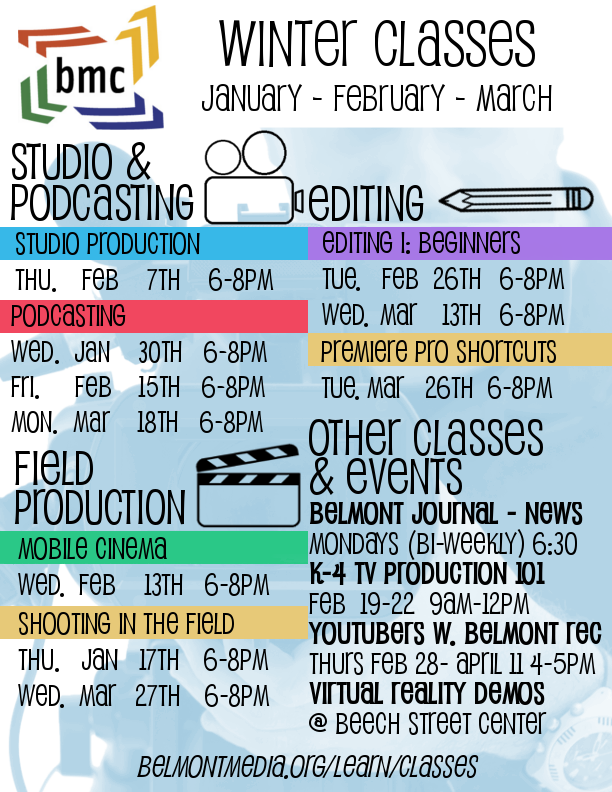 Tuesday, January 8, 2019 - 3:38pm
Winter classes are underway at BMC! Check out our class schedule, then head to our Classes page to register! 
Join the Belmont Journal working group to contribute news stories to our weekly news program. If you're passionate about telling local stories but aren't sure how to get involved, this is a great place to start! Training includes shooting, editing, and interviewing. Drop in on January 14th & 28th or February 11th & 25th at 6:30 to meet and join our dedicated group of local volunteers!
Our Mobile Cinema class will teach you how to use your iPhone or iPad to shoot and edit video, all from various apps on your phone or tablet (iPhone 5s and newer, iPad air / iPad mini 2 and newer). We will also introduce accessories that can be used with your device to capture better video and audio. 
Premire Pro Shortcuts will help take lots of time and effort out your editing workflow! Learn keyboard shortcuts and other tools that will cut your editing time down significantly. If you're frustrated and wasting time trying to edit, this class can help! Some basic knowledge of Premiere Pro is required (TWO beginners editing courses are being hosted on dates before this class - sign up now!)