Gallery @ BMC: The Holiday Show & Reception
Wednesday, December 5, 2012 - 10:20am
As winter closes in, we are keeping the walls inside BMC warm and inviting with the current art show in the Gallery @ BMC.  We've coordinated with BMC member, Diane Covert, to have the lovely paintings of Marcia Cooper, Linda Christian-Herot, David Covert and Diane Covert, herself, hanging at the center until the end of the year.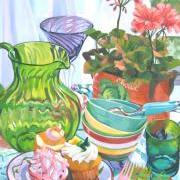 Each painter has contributed works that are very unique perspectives, including landscapes, still lifes and portraits.  But while the artists clearly have distinct viewpoints, they all depict spring and summer in some way; be it bright, fresh flowers, sand dunes or rocky shores set against blue skies.  This has helped extend warm weather feelings for us here at BMC. 
Should you be intrigued by this description, be sure to drop by the Gallery @ BMC reception tomorrow night (Dec 6).  Beginning at 6.30pm, there will be refreshments and a chance to hobnob with the artists themselves. 
And since the show will be closing at the end of the month to make way for another artist, the reception will be a great chance to see these paintings. 
To learn more about the artists through their statements, please click here. 
Thu, 12/06/2012 - 11:30pm

to

Fri, 12/07/2012 - 2:00am