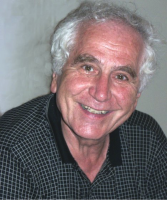 Ottavio arrived on Winn Street in Belmont in 1970, he still lives at the corner of Winn and Claflin Streets.   His two children, Paolo, an electrical engineer, and Carla, an artist, were born in Belmont and attended the Belmont public schools.
Ottavio arrived in Boston upon graduation from The City College of New York to accept an engineering position at MIT to work on the Apollo Project.  He remained at the Draper and Lincoln Laboratories 22 years on aerospace programs in missile and rocket guidance systems.  Upon retirement from Raytheon he relaxes by expressing his emotions and creativity in a blend of engineering and artistic balance in designing and building steel sculptures.
Many of the large painted sculptures can be seen around his garden on Winn Street.
Ottavio arrived at Pier 67 in New York City, with the S.S. Roma, at the age of 14 from Italy.  As the ship entered the harbor, a returning adult pointed out to him the Statue of Liberty.  Immersed in a new culture and language, he worked very hard in high school and college.  He now holds a Bachelor of Electrical Engineering from The City College of NY, an M.S.E.E. from Northeastern University, and a M.B.A. from Boston University.
In retirement he is a daily substitute teacher, in most subjects, in the Lexington Public School District.
2nd Term, BOD elected, exp. 2024